Highland Park


The land now known as Highland Park was bought in 1889 by a group of investors from Philadelphia, Pennsylvania, known as the Philadelphia Place Land Association, for an average price of $377 an acre, with a total of $500,000. Henry Exall, an agent, intended to develop the land along Turtle Creek as Philadelphia Place, exclusive housing based on parkland areas in Philadelphia. He laid gravel roads, and dammed Turtle Creek, forming Exall Lake, before the Panic of 1893 brought a blow to his fortunes, halting development. Afterwards, he began a horse breeding farm. In the 1890s, Exall Lake was a common picnic destination for Dallas residents.
In 1906, John S. Armstrong (the former partner of Thomas Marsalis, the developer of Oak Cliff), sold his meatpackingbusiness and invested his money in a portion of the former Philadelphia Place land, to develop it under the name of Highland Park. He chose this name as it was located on high land that overlooked downtown Dallas. Wilbur David Cook, the landscape designer who had planned Beverly Hills, California, and George E. Kessler, who had previously planned Fair Parkand most of downtown Dallas, were hired to design its layout in 1907. Notably, twenty percent of the original land was set aside for parks. A second development in Highland Park was developed in 1910.
In 1913, Highland Park petitioned Dallas for annexation, but was refused. The 500 residents voted to incorporate on November 29, 1913, and incorporation was granted in 1915, when its population was 1,100. The first mayor of Highland Park was W. A. Fraser. A third and fourth development were added to the town in 1915 and 1917, respectively. In 1919, the city of Dallas sought to annex Highland Park, beginning a lengthy controversy that lasted until 1945. J. W. Bartholow led the fight to resist the annexation. The final major land development occurred in 1924. In 1931, Highland Park Village was constructed, the first shopping center of its kind in the United States. The distinctive Moorish Style ornamental metalwork and lighting in Highland Park Village were created by Potter Art Metal Studios, a 90-year-old custom metalwork company still in existence today.
Because of its location near Dallas, Highland Park had, by the early 1930s, developed a moderately large (8,400) population, with a few businesses. Eventually the school districts and newspapers of Highland Park and University Park were combined. In the 1940s, after the failure to annex Highland Park, Dallas began annexing the land surrounding it. Reaching a population high of just under 13,000 in the late 1950s, Highland Park afterwards grew only by building houses on the remaining vacant lots, and by the destruction of old buildings. Since 1990, Highland Park has maintained strict zoning ordinances. Known for its quality housing, the town still has many parks running along Turtle Creek and is home to the Dallas Country Club.

Highland Park became somewhat famous in the early 1980s when the popular television show Dallas used to shoot on location there. The 2012 TV series GCB took place in the fictitious "Hillside Park", which is likely a stand-in for Highland Park; however, the residence in the show where the mother of the main character, "Amanda Vaughn", lived is actually located in East Dallas.[8] From the Netflix original show, House of Cards, main character Claire Underwood (played by Robin Wright) grew up in Highland Park.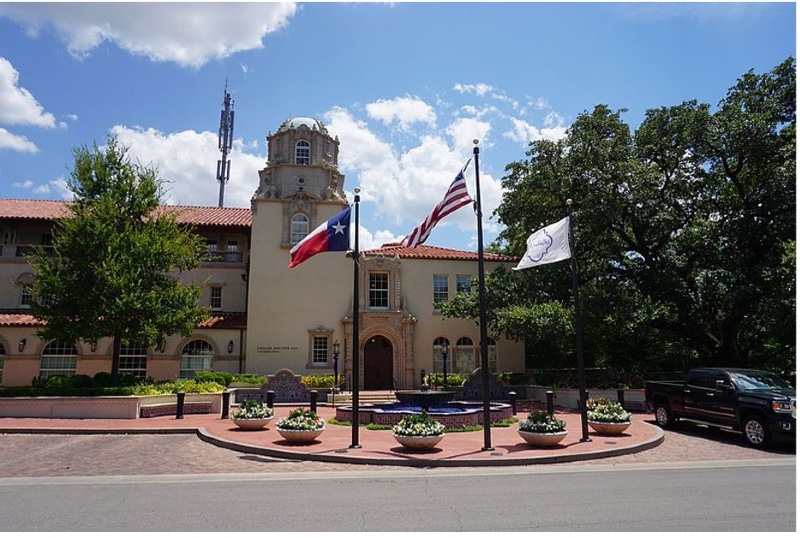 Amenities:
Shopping Centers:
Highland Park Village
Snider Plaza
Galleria Dallas
North Park Center
Other:
Highland Park Parks
Highland Park Public Library
Highland Park Swimming Pool
Highland Park Tennis Courts
Highland Park Community Events
Southern Methodist University – Campus Events
Dallas Country Club
Notable Employers:
True Spec Golf
Remote Year
Blick Art Materials
Chicago Cornea Consultants
Notable Schools:
Highland Park High School

Ranked first among the 2019 best enrollment high schools in the DFW Metroplex
Armstrong Elementary School
University Park Elementary School
McCulloch Intermediate School
Highland Park Middle and High School
Academic Performance:
Overall API: 85.1

Dallas ISD: 46.3
Highland Park ISD: 96.4
Housing Information:
Median value of a single-family home: $1,413,900
Median household income: $200,208
Homeowners constitute 82.7% of the population
Crime incidence rate: 21.6 per 1000 residents
Property tax range: 2.08%-2.16% of tax appraisal value
Commutes:
About 6 miles (13 minutes) to downtown Dallas
23 miles (32 minutes) to DFW International Airport Passenger Terminals
10 miles (14 minutes) to north Dallas business center
Matt Braun
Real Estate Professional
COMPASS
TX License Number
:
754454
Address:
6801 Gaylord Parkway, Suite 110
Frisco, TX 75034